Written by: Jeffry Jones at 05 Sep 2014 college file studying tips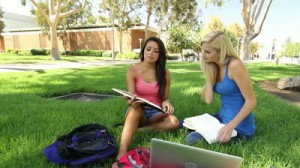 It's that time of year again. Classes are starting, and before you know it you're back in the thick of it.
Maybe you've been sitting around all summer, or maybe you've been preparing.

Either way, it's time to get ready for school again.
Don't panic!
Getting back to school can be a lot scarier to think about than it actually is. We get worked up, thinking it's going to be a big sudden challenge, when really it ramps up more gradually. Yes, we're about to start on a fresh workload, sometimes with new professors and supervisors, but it's the same thing we've been doing for ages.
Before we reach the age of 30, we've probably been in school for the most part of our lives, and no matter what level, it's pretty much the same deal. If you're just starting out with a new program or a new school, there will definitely be a lot to learn, but it won't be so different than we're used to. So, don't psych yourself out, don't panic, take it slow and steady.

Diligence beats intelligence
They say that "those who fail to plan, plan to fail". Nowhere is this more apparent than in your academic career. It doesn't matter how smart you are, being ill-prepared will mess you up every time.
Know the grading rubrics for your class assignments. Knowing what to expect before you get your assignments will help you stay on track and get the grades you want.
Get your textbooks. We often overlook our course texts because we don't think we always need them, but it's better to come prepared.
Put important dates in your calendar as soon as you get them. Knowing your schedule means you can manage your deadlines as well as your personal and social life. Having the basics will take a lot of pressure off you.
When you have everything organized, you can start to see what kind of time you have left for the rest of your life. You can also juggle things around because nothing will ever go exactly to plan.

Relax, it's good for you!
With the huge workload you have coming up, and with all your time budgeted and organized for you, it's easy to feel overwhelmed. It's important to take stock of the time you have for you and to use it to recharge.
- Look at your calendar and see where there is some of "your time".
- Make time for dinners with friends.
- See if there are any activities or societies around that can enrich your down time.
- Know when you're reaching your productive limit and take breaks.
We sometimes think that relaxing is really just slacking off, but studies show that it's an important part of the productive process. No one can last very long on full blast. Down time lets you charge your batteries and makes you more effective when you really do need to go all out.

Get into the swing
This time of year is pretty amazing. If you're in a university town, you're going to see it completely blossom. There's going to be a lot of energy and a lot of buzz around. You're going to want to take advantage of the feeling of the moment to really get into the swing of things.
Campuses will be full, and student services/societies are going to be starting up. There are going to be a lot of enthusiastic people ready to help you get involved and get to work.
It's this time you should be using to get involved with your school, your classmates/lab mates, and your professors. Get to know people around you if you don't already.
No one makes it out of the gate perfectly. Even if you're in a program that starts off with a big workload on the first day, there will be some leeway for you until you get settled. Don't worry if you don't get off to a perfect start, nobody is going to judge you.
Getting into the swing just means getting the best start you can, and that means using everything you have at your disposal to set yourself up for success.
You're all set!
Welcome to the new school year, get comfortable, get diligent, and get excited. There's a lot of work ahead of you, but you'll be well set up to succeed if you take it easy, plan, and use the resources around you to kick start your academic year. Good luck!