Written by: admin at 10 Sep 2013 campus international students residence hall studying university
Choosing where to live while completing your degree can get tough. There are numerous options, each of which has something to it. Research has shown though that those who live on campus get higher. Is there truth to that? Yes, there is, but good grades is not the only thing to consider.

City or Town?
If it is a town you go to school in, a residence hall might not be the liveliest place. In fact, it will almost certainly be boring as hell. There are just not enough people for the place to be exciting to live in.
University residence halls in cities are somewhat better because of the surrounding infrastructure and just more people to hang out with. An urban campus is meant to be big and lively. That's why most people going to city universities either choose to live with their parents or in a residence hall. If you are an international student studying at an urban location, you would clearly go with the latter.
Do You Work Or Plan To?
If you are planning to work while studying, on-campus residences are going to be a little annoying. The problem here is the location and the general attitudes of people living on campus. If you are serious about your career early on and you would like to be making good money in school, you should pick housing based on where you will work instead of where you will study.
If you plan to work on campus though, your best pick would clearly be residence halls. If you can handle the noise and lack of privacy, you'd be living close to your work and classes at the same time.
International Students
International students are often required to reside their first year on campus. This is so because university authorities believe international students need to integrate into on-campus living to better understand the local culture and to make friends.
On-campus residences also provide various weekend activities and helpful benefits like storage space. Both are good and especially useful to first-year students from abroad.
Making international students live on campus is not always right though, as they can make an equally big amount of friends off campus. In fact, the friends they would be making off campus would be locals, who they could practice their language skills with or just get to know the culture better. That is why our advice to international students is to move off campus as early as possible. The first year reserved for on-campus living may not be that bad after all, so don't feel down if you find yourself living in an on-campus setting. It's not for long.
Private University-Type Housing
Probably the most expensive kind of housing that's only available in major cities or in places with big universities. A privately-held residence hall is quite similar to what you would see on campus, however the quality of the room is going to be higher and the people you reside with a going to be a little different. Correspondingly, it is going to be the most expensive option. Why? Because you live in a relatively quiet residence hall made up of studios, where you have all the preconditions for study.
Benefits and disadvantages:
Small rooms just like in residence halls
Relatively noisy but very good for studying
The most expensive option
Well-decorated rooms, good security and helpful staff
Residence Halls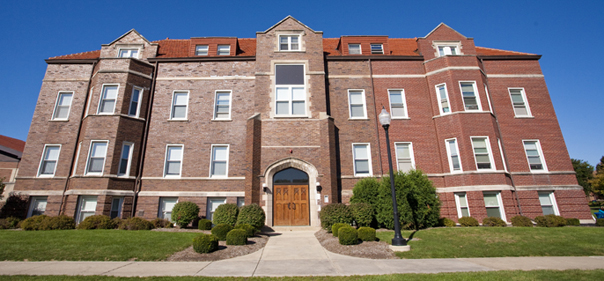 Residence halls have been traditionally very popular. These days though, they are mostly chosen by international students and those who work on campus. Others choose the convenience and fun of off-campus life.
Benefits and disadvantages:
Little or no privacy
Extremely good for studying
More expensive than living off campus but cheaper than private accommodation
Bills included
On-site laundry and other facilities
Off-Campus Apartments and Houses
The most popular option with American students remains to be off-campus accommodation.
Benefits and disadvantages:
Available only around large universities or in cities
Bills not included
You have to set up Internet connection and cable TV on your own
All the privacy you want
Bad for studying and good for partying
The cheapest option
Conclusion
The conclusion is that there can be no conclusion. Choosing the right accommodation type is very individual and depends on what you need and plan to do while in school. Still, you are only choosing between private university-type housing, university-owned halls and off-campus accommodation like apartments and shared houses. There is a lot to each of the three options though, and as you can see, it is hard to be definite about what to choose. One thing is certain though. If you want to study – you live on campus, and if you want to be social – you rent an apartment and throw a party whenever you like.