Written by: Jeffry Jones at 26 May 2014 Memorial day United States holidays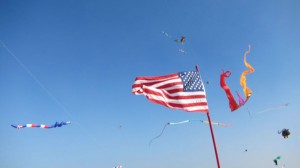 Those of us new to an area are usually caught off guard and unaware by the local holidays that sneak up on us. If you're in America, this Monday you'll be off work and out of school for something called Memorial Day. This one is quite important in America, so it'll be good to have a little background about it and understand the ways you can participate and celebrate.
Memorial Day in America is a day used to honor and remember the veterans who have fought and died in service to the American military. Originating as a day to honor the dead in the American Civil War, the scope of Memorial Day had been expanded over the last century to encompass veterans of every conflict. You'll find it's a very similar affair to Rememberance Day, or Armistice Day, celebrated on the 11th of November.
Memorial Day has a particular American twist because it originated as a day to remember the dead in the American Civil War. This is a major event in the US history that is still visible over 150 years later. While the focus will be broadly on the American military in all its conflicts, there are some regions that will focus more on the Civil War than any other conflict. Some areas will even stage a reenactment of a civil war battle for the public to view.
Americans are encouraged to get involved with their local veteran's agency and volunteer at hospitals or place American flags on veteran grave sites. Families will do historical readings or retrace their lineage to the Civil War. A lot of people also visit memorial sites related to the Civil War or large military memorials like Arlington National Cemetery.
While this all sounds like a very solemn American affair that focuses strongly on the country's identity and history, there are still plenty of ways for non-Americans to participate in Memorial Day and non-Americans are very much encouraged to do so.
In many communities there will be parades. These vary from area to area but all of them will focus on American icons and colors (expect a lot of flags and streamers). Some will feature veterans and will honor military service, while others may just be a generic parade where everyone waves a tiny American flag, lights sparklers, and has a good time. Everyone is invited to these events, and they can be great fun.
If you're lucky, you'll be in a large enough city that there will be an outdoor concert. You might just get a concert at a local park with some small bands from the area, or it might be a huge affair with some really great acts. Either way, it's a real treat.
No matter where you are, and no matter what you go see, it's almost guaranteed that if you look up, just after sundown, you'll see the sky light up with fireworks. Almost every town will be celebrating by sending up some rockets.
Even if you're not comfortable joining in on any of these events or don't feel like participating then you have a long weekend to enjoy however you like. You won't be the only one doing this. For years many Americans have used the title "Memorial Day" as an unofficial start to the summer season. Basically, anything that screams "summer in America!" is fair game.
This will be the first weekend you can reliably lift your nose into the air and smell burning charcoal and broiling meat. There will be Bbqs a plenty and you can almost certainly guarantee people will be drinking too much light beer. Be careful though, light beer doesn't mean it's non-alcoholic, it just tastes that way.
Don't bank on celebrating though, Memorial Day and the weekend before are perfectly suited for unwinding or catching up of some work you might have. It's not the only holiday in the summer, it's just the first. Missing out on it isn't the biggest deal. Americans take very special care to celebrate with the symbols of their nation on a very regular basis and if you find that you'll have to miss this slice of Americana, there's another one right around the corner (July 4th). Remember, you're not going to be the only one taking it easy if that's what you chose to do.
Some Americans use Memorial Day to honor the war dead of the nation, others use it as an excuse to throw the first raging party of the summer.  Some people use the weekend to unwind and read a book in a park; It's a day where you can't really go wrong doing whatever the heck you like. Just remember that it is a national holiday, and take special care to acknowledge that some people honor it for its intended purpose. Be respectful and be polite and you should get along just fine in whatever you choose to do with your long weekend. Enjoy.